Easter decorations that reflect the "REAL" meaning of Easter! It's Easter again! A great time of year as the snow melts to reveal spring flowers and baby ducklings we celebrate new beginnings, looking at the cross as a symbol of new beginnings. Not only do we need to teach our children that the season is not about bunnies and chocolate eggs but we also need to remind ourselves about the cross and what a sacrifice Christ made for us giving His life so that we may live!
I have decided this year that I will be decorating my home in a way that shows that I know the true meaning of this season and is reflective of my faith (many years ago I decided to live by the mantra "DO NOT BE ASHAMED OF THE GOSPEL NOR A SHAME TO IT!"). I am wearing my faith on my sleeve (well … my front door which is just as good).
I love love love to decorate my home and repurpose items for that purpose (those of you who know me know just how true this is!) After searching online I was able to come up with several really great decorating options:
Front Door
What better way to let others (letter carriers included) know where you stand. Visit GrandparentsPlus.com for great craft ideas and check out the Easter cross; this can go on your front door if you have a covered porch or storm door. It is simple but you can use your creativity to embellish it so it stands out.
Another great craft is the Easter Craft Door Hanger over at LoveToKnow.com this is another simple craft and it, in my opinion, looks better than a pastel pink bunny hanging on your door!
Head over to An Elegant Touch and scroll half way down the page where you will find another tastefully decorated Easter Wreath this is something where you can take some creative license and make it your own.
For the really crafty types out there here a few options at Vintage Easter Crosses. I really love the blue burlap design (I might try to make that).
Mantel
The mantel is always a popular place to decorate no matter the season! Kim over at KimSixFix.com has a great Easter mantel that she decorated on a very tiny budget.
Over at Familybringsjoy,  Shan has decorated her Easter mantel in an understated but still tasteful manner.
If you want to get away from all the commercialism of Easter altogether (ie. Pastels, coloured eggs, etc…) then I think that over at CasadeFamiliaGarcia they have accomplished that design, check out their Easter mantel here.
General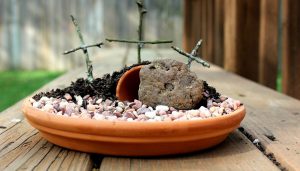 If you are a décor addict and don't want to stop at just the mantel and the front door then I also have options for those of you who want to go that step further. At We Are That Family there is a project that you can do with the little ones the DIY Mini Resurrection garden. You can use this craft to explain the tomb and Christ's resurrection to the kids!
Over at Anyone Can Decorate there are several great Easter Décor ideas for around the house, mixing up the Christ focused décor with the commercial décor is another direction to go in and there is a little bit of both here. Check out the Easter décor page.
Easter is one of my favourite occasions (and it's not just because of the dinners and chocolates… well…maybe a little). The meaning of the season is very important to me, as I am sure is the same for many of you. I want my children to realize that this time of year is just as big as Christmas and for me decorating my house is a demonstrating those feelings. If you are not someone who typically does Easter décor then start out small with the mini resurrection garden (great centerpiece for a table) or something else manageable for you. I think this will enhance your Easter celebration.
Until next time.
Lisa
Don't forget to visit me at my home blog Little Tip of This and That