Craig Groeschel's book, Altar Ego: Becoming Who God Says You Are, is an easy read but filled with inspiring and directive insight in God's plan for each Christian's life and identity.
Groeschel makes the case of putting one's life on God's altar (note the title) and allowing God through Jesus to develop and lead to who God had planned… "meant to be" for one's life.
The author makes the case with illustrations of hearing God's "call" and obeying and being bold in Christ – "being a servant of Christ." This demands a strong faith "that will not waver."
Many everyday situations are identified and challenged to follow God's directives in patience, integrity, honour, gratitude (so important!) and having a bold (in Christ) approach, in prayers and deeds.
When you read this book, I suggest to have a pen and paper/journal handy as there is much to "ponder" and meditate.
Reviewed by Meg Slater of Westheights Community Church and proud supporter of the Resource Centre. You can find Groeschel's book Altar Ego in the Westheights Church Resource Centre.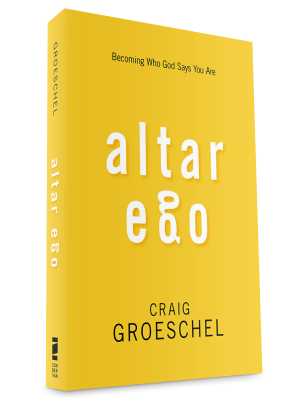 About Author Craig Groeschel: New York Times bestselling author Craig Groeschel is the founding and senior pastor of Life.Church, an innovative and pacesetting church meeting in multiple locations around the United States and globally online, which also created the popular and free YouVersion Bible app. He is the author of several books, including Fight, Soul Detox, The Christian Atheist, and It. Craig, his wife, Amy, and their six children live in Edmond, Oklahoma. Visit www.craiggroeschelbooks.com