Remember the annual outdoor Bethany Christmas Pageant?
Bethany Church puts a float in the local Christmas Parade each year to raise awareness of their Pageant. This year they need more people to fill up the float. A full float looks much better and has "more energy" than a sparsely populated float.
My brother Roger is asking if there would be some people from Westheights who would be able to help them by sitting on the float? My family is going to be there — who else can come?
You will be dressed in period costume and they feed all of us at the end! — The day looks like this:
8:00am Arrive at Bethany Church. Wander around the various rooms of a gazillion costumes… pick out a costume or they will suggest one for you.
(later) Drive in groups to Waterloo, stay near or on the float until it starts.
(later) Parade starts, lots of smiles and waving and wishing Merry Christmas to everyone as we go by!
12:00pm (approx) The float gets us back to Bethany. Take off costumes. We eat!
1:00pm Done, leave with full stomach.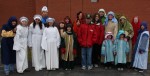 The parade is this Saturday, November 19, 2011. You will need to be at Bethany at 8am and you will be done as of 1pm.
A bunch of us "did the float" last year (see the photo of us in costume) and really enjoyed it. We also liked that we could help our sister church raise awareness of their free outreach event: http://www.BethanyPageant.com/ … besides, Bethany provides Westheights with lots of equipment each year for our Family Carnival, so it's nice to help them out too.
If you can help, please send a short email to my brother Roger by this Friday, Nov 18th with a count of how many are coming from your family/friends. And I'll see you there!  😉
Thanks!
PS: Bethany Evangelical Missionary Church is located at 160 Lancaster St E, Kitchener ON (map)
(click the photo to enlarge it)
(edit 2022: For privacy purposes, edits were made to the post)