The BIC YouthBuilder team will be at Westheights from December 13-18, and we can't wait! Join us at Westheights 7:00-9:00pm on Tuesday, December 13th for an awesome games night with the YBs. Both Junior AND Senior Highs are invited!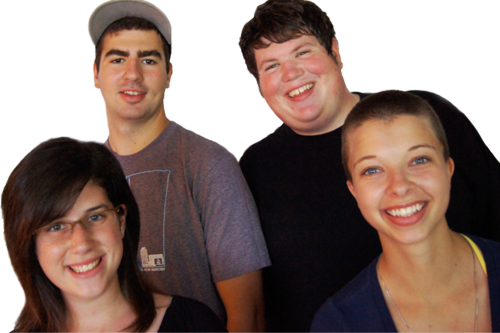 (Clockwise from top: Dillon Sider, Liam Flagg, Laura Erler and Nikki Grant)
Tom and I have had the privilege of working with this team since they began life together last June, and have had a blast. Westheights is their "home church" while they are on the team, so you may have seen them on a Sunday morning or two over the past several months.
Nikki wrote the following as a note to Westheights: "Please be praying for us as we continue to work with different youth groups and leaders. You can support us is by sending us encouraging emails, praying for us, and by donating to our scholarship fund. We have enjoyed being involved in your church through-out the summer and cannot wait to spend a week with you before Christmas!"
If you would like more information about the YouthBuilder program, you can visit their website here.
EVENT RECAP DETAILS:
What? A games night with the YouthBuilder team
When? Tuesday, December 13th from 7:00-9:00pm
Where? Westheights Community Church
Who? All Junior and Senior High students
Cost? FREE!
Hope to see you there!