I recently was reading from C.S. Lewis and he said, "Seek the things of heaven and you get earth thrown in. Seek the things of this earth and you get neither." I imagine he was thinking of Matthew 6:33 where it says, "Seek the Kingdom of God above all else, and live righteously, and He will give you everything you need." In this verse Jesus offers us spiritual focus for our lives.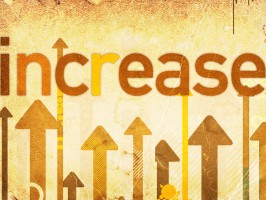 Jesus is saying "focus on the kingdom of God above all else and God takes care of everything else." This verse is also a good reminder for Lent.
Lent is a season of spiritual focus. It is a time when we in the Christian church are encouraged to prepare and purify ourselves for the upcoming Easter season. In our church we have tried to bring a proper emphasis to the season of Lent. I have no interest in it becoming a meaningless ritual on our church calendar, as can easily happen. But I do see it as a wonderful time for spiritual focus.
To help with spiritual focus during Lent, each year we plan for a 40 Day Spiritual Adventure. It is a time when we focus on our lives with God in a greater way. It is a time in which we prepare and purify ourselves for the forthcoming Easter season, the most important of all Christian celebrations. This year, our focus for our 40 Day Spiritual Adventure is called INCREASE. We have called it INCREASE because we are focusing on allowing Christ to INCREASE His influence in us. Much like Paul said in Colossians when he stated, "I must decrease, He must increase." It is our hope and prayer that you will experience a renewal as you allow Christ to increase His influence in all areas of your life. As you do this we believe we will live and love as Jesus did with lives of gratitude and joy and hope and freedom and mercy and generosity.
This Sunday we will provide you with some resources for INCREASE. These are the best resources we have ever produced in our church. You would not want to miss it.
I am excited about what God will do in the life of our church during our 40 Day Spiritual Adventure. I envision a church that is different because the people are different. I pray that you will prepare for this season of spiritual re-commitment and renewal. If you pray, then I know God will work. Imagine what would happen in a community of Christians where the people prayed and said, "I am going to let Christ INCREASE in me?" That would change everything.