"As Digital Parenting blogger Beth Blecherman has noted previously, withholding technology is one of the most effective ways to guide your children's behavior, whether it's a cellphone or net access. But, make no mistake, this can also be a lot of fun."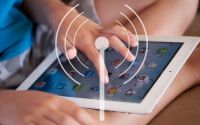 This article is a humorous look at how parents can have some fun while still encouraging proper behaviour from your children.
Article: "Using Technology to Torment Your Kids"
This article is by Dan Tynan in the Lifestyle section of the Mashable blog.
Photo credit: Mashable composite, photo courtesy iStockphoto, LeicaFoto.