YouthQuest 2012 is coming in a few short months, and you can register today! Set in Baltimore, Maryland from Dec. 27-30th, YouthQuest brings groups of Sr. High students from all over the Brethren in Christ Church across North America. It truly is one of the most unique and amazing parts of our denominational family, and a can't miss event!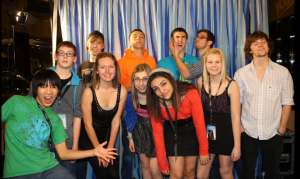 YouthQuest feature's high energy sessions that include great music, special guest artists and insightful teaching. This year will feature speakers Andy Harrington and Rache Held Evans, and music by Instead of Silver. There are also going to be some informative and interactive seminars, off-site trips and theme dinners.
The cost of the event is $350 plus transportation fees. We're working hard as a group to bring down the cost of the event through various fundraisers and donations. Our goal is to at least eliminate the cost of transportation to the event (an additional $35-50/student) and hopefully to bring the final amount down as well. Please have a cheque for a $150 deposit when your hand in your form, so that you save a spot. The final $200 will be due in mid November mid December. Make all cheques payable to Westheights Community Church, with YouthQuest in the memo line.
If you are interested in registering for the event download the form today, or if you'd like more information about helping send students with a financial donation or about the even in general, please contact Tom Fenske
UPDATE:
Sorry about the confusion, but in order to lesson the complications connected to fundraising, the date the balance will be due is going to be in mid December not November. The final date is to come, but the ideal is that if our fundraising goes really well, that amount will be lower. We have some fundraising events planned that we'll be working on with the students in the coming weeks.
UPDATE #2:
We've had some questions about weither the deposit is refundable. If you have to cancel on coming to the event, the latest you can lest us know by is Sunday Dec. 16th. All money given to us before that date is refundable in full.