Friday was another interesting day in Nicaragua with its share of unexpected events. Before breakfast we were met by a stranger who requested some financial assistance to cover the cost of some medicine for his wife. We asked him to come back later in the day when we would have time to go with him to the pharmacy to purchase the medicine.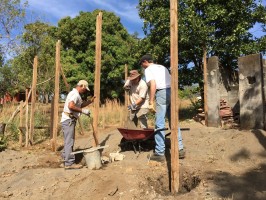 In the morning we were working as usual at the San Antonio Sur site, where we are working with Pedro, a Nicaraguan carpenter, Kervin and Zenaida's (the owner of the home where we eat lunch) husband to build a garage where materials for the main building may be securely stored during the construction of the main building.  On Friday we were able to install the last 2 posts and place all the plank siding on the north wall.  All the planks and posts were coated in diesel fuel to prevent termites from doing what they like to do.  The termites were starting to infest the wood stored onsite for the garage so some onsite termite control was undertaken.
We had another fabulous lunch made by Fadah and hosted at Zenaida's home. The Nicaraguan national church leadership was with us at lunch and we had a brief meeting afterwards where each shared a bit about ourselves and German (President of Nicaraguan BIC Church) talked to us about the engineering and permitting work being done for the main building.
We then went back to the hotel and got cleaned up a bit.  Trevor took a quick trip to the pharmacy to get some medicine for the gentlemen we met in the a.m. Sherry went and found some additional supplies for kids club and we were on our way to La Montanita BIC Church.
It was really cool to see La Montanita church again.  When we were there last year for kids club, they didn't have a church building and the men of the church were leveling the land to build the church building.  This year when we arrived we could see that all the walls of the church were half finished (about 4 rows of large concrete blocks all the way around).  Again the kids club was very well attended (about 50 children) and was very well delivered and received.
After the kids club the pastor and elders of the church and Miguel (Nic. national church rep) and the team had a very moving time of prayer and sharing. Pastor Ramon shared his personal story of being bitten by a very poisonous snake, praying to God and miraculous healing.  The Pastor thanked us for coming and prayed for God's hand to provide ongoing protection and guidance for the remainder of our trip.
God is good, we are having a great time.
Shout out to Matt,  Happy Birthday. Will connect with you all when I get back Lord willing.  Hi Cyndy & Alyssa all is good!