The weekend was a well deserved rest for Team Nicaragua. The first week went very well but the days are long and, in combination with the hot weather, everyone is tuckered out.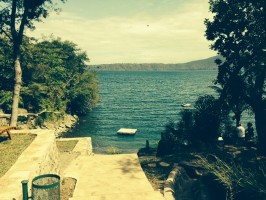 On Saturday we went to Lake Apoyo but we started the day a little later than our work mornings. Everyone was appreciative of the more relaxed start to the day. Lake Apoyo (Laguna de Apoyo) is a clean, blue, and thermally vented body of water contained inside the crater of the Apoyo Volcano (think big warm clean lake!). It is one of Nicaragua's most beautiful natural wonders and just a short drive from our hotel. After a day at the lake we travelled back to Masaya and went out for dinner at Papa John's Pizza (our second time). An early night was in order and the evening had no specific activity planned.
On Sunday we spent the morning and early afternoon at Masaya Volcano National Park. We toured a 300 foot long cave formed from molten movement during an active time in the volcano's history.  The cave is one of a number around the Volcano and it is a tourist attraction. It is home to many bats. You explore the cave with a hard hat and a flashlight.  You can see Thomas making a scary face with his light deep inside the cave.
The main church service for Masaya church on Sunday is at 4:00 pm. Masaya church is the building project that Westheights worked on three years ago when we helped to add a second story to the building and helped financially to add a third story too.  It was exciting to revisit this thriving church. One of the things that has developed during our initial visit to Masaya and subsequent visits is a musical relationship.  The pastor's wife is Lilliam. She is a very talented person and she and Melanie have an amazing ability to co-lead worship in two different languages without any practice time. We arrived at the church and after a very brief conversation between Melanie and Liliam, they were soon leading worship as you can see in the video. It is a very moving experience to have the two of them go back and forth between Spanish and English.  It is a picture of Revelation when the Bible says all the nations, every tongue and tribe will worship the Lamb.
I preached in the church service with Trevor Main providing the translation.  The service had a ministry time for prayer and healing at the front near the altar.  The church service was two hours long but it did not feel that long.  It is a lively church with lots of music and the place was packed full.  Following our farewell to Pastor Manuel and other friends from the church we headed out for dinner.  After an awesome dinner including fruit drinks and the best frozen lemonade I have ever had, we walked back to our hotel.
One of the problems we are facing is that we were told to expect 30 kids at each of the churches we would visit.  We planned for 200 supplies since we are going to visit 6 churches. However, there have been about 50 kids at every church so far.  Sunday night involved a meeting of the team to figure out how to get more supplies for the remaining three children's programs.  Sherry Main has been an amazing leader for this part of the trip and she helped us make a plan that involves taking a taxi trip to Managua and buying the extra materials for the school kits.  Once we solved our logistical challenges we played some cards.  Once again I managed to lose the game of 31 (this is an old card game Roy Felder taught us at last year's trip).  My losing seemed to be just the excuse everyone needed to call it a night and each headed for bed.