You've followed the steps in the previous tutorial, and have joined the Westheights Directory, and now are wondering how to access the information on a regular basis for all the Westheights Community Church community connections. This is a tutorial on how to access the directory. As always, if you have any questions and need technical support, feel free to email Sarah Brnjas or give her a call at 519 741 1986 ext. 805.
Disclaimer:
The directory is for the sole purpose of building connections and community within Westheights Community Church. The individuals within this directory have given permission to share  their information for this purpose only. Do not use this information for solicitation purposes. Do not distribute the personal information within the directory. If you have any questions, please connect with Westheights Community Church Staff by emailing directory@westheights.org or calling the church office at 519 741 1986.
Paper Copy
If you're interested in a paper copy of the directory, please email directory@westheights.org or call the church office at 519 741 1986, and Sarah Brnjas will connect with you on next steps. 
Online (Two Options)
Both options below do require the same log-in process that you did to opt into the directory initially. The picture below is a reminder on how to access it.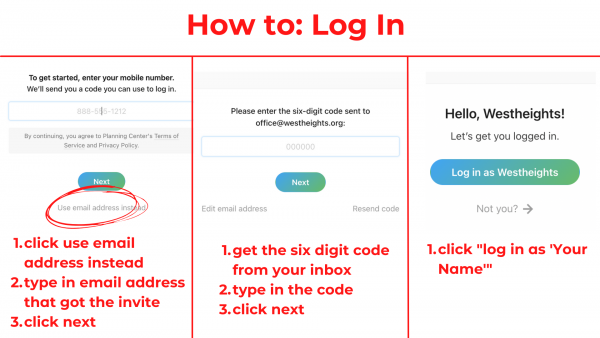 Now there are two ways to access the directory online: the website or the app.
1. The Website
The link to the online directory is https://westheights.churchcenter.com/directory. Feel free to save this link in whatever way is easiest for you. You also can find it at the bottom of our Weekly Newsletter (Join the Email List Here) or at the very bottom of our website under "Resources".
2. The App
For those who are smartphone savvy, Church Center has an app! You can find the Apple App Store or Google Play Link here.
Online Directory Organization Tips
Everyone has different levels of confidence with technology, so here's some quick tips on how the online directory is organized.
1) Individual or Household
Depending on your preference, you can organize the list by households or individuals, and individuals can be organized by first or last name. Next to the search bar on the website on the right it says "view household" you can click that and change it to "view people" (or vice versa). On the app, there's icons that do the same feature. You can also just search a name to find who you're looking for.
2) The contact information is clickable
Specifically, when you get to the person you want to call or email, you can click their phone number or email address, depending on how your device is set it, it will start the process on your device to start emailing or calling them.